Friday Quick Caption for August 5th 2011
[private]
Friday Quick Caption is a weekly update of quick links and blurbs from the world of entertainment news. Expect your fast pace, A.D.D. dose of movie trailers, comic news, celebrity updates, and video game announcement from throughout the week.
Catwoman Caught on Camera – The Dark Knight Rises website has released our first official image of Anne Hathaway as The Dark Knight Rises' Catwoman. This might be the most reserved we've ever seen a Catwoman on screen.
GamePro goes a little more Seasonal – GamePro magazine is leaving the monthly route to now go seasonal in its releases. Raising prices to $10 an issue and adding more content for your less regular release date, the periodical will begin seeing quarterly release this winter.
A New Man of the NightWatch – George RR Martin's Song of Ice and Fire series has a cast of thousands, and now his TV show, Game of Thrones, continues to cast those thousands. Just recently we've been made aware of the casting for Jaqen H'ghar. Jaqen is one of the NightWatch prisoners in the books, known for being in the same story line as young Arya. Jaqen will be played by the German "Enemy at the Gates" actor, Tom Wlaschiha.  Tom will be joined along side Gemma Whelan (as Asha Greyjoy), Nonso Anozie (as Xaro Daxos), and Stephen Dillane (as Stannis Baratheon).
Freak Angels Finale – The finale chapter of Warren Ellis' free online comic, Freak Angels, goes live today. Check it out and make sure to pick up the final collection from Avatar Press later this year!
Going to the Battlefield early & prepared – Battlefield 3 fans don't have to wait long if they want to beta the game, thanks to the reserve option on EA's Origin. If you pre-order you copy of Battlefield 3 now you can get free shipping, a "Battlefield Play4Free" shotgun & beret, early beta entry for the game, and the much talked about Physical Warfare Pack. However, other pre-order options are available:
GameStop is offering the Physical Warfare Pack with pre-orders
Bestbuy's hooking advance orderers up with the SPECTAC Kit Upgrade
Amazon's pre-order gift is 10 customizable dog tags for B3
Battlefield 3 releases October 25 for PC, Xbox 360, and PS3. Open beta begins this September.
Bruce is Oz – Or atleast the great Bruce Campbell will be in in Sam Raimi's upcoming film, Oz: The Great And Powerful. Bruce just tweeted about this earlier today.
September Brings the Marvel Architects – Throughout September, DC comics may be throwing out a large amount of #1's, but Marvel has their Architect Variants. Check out 4 advance previews of the special comic covers below: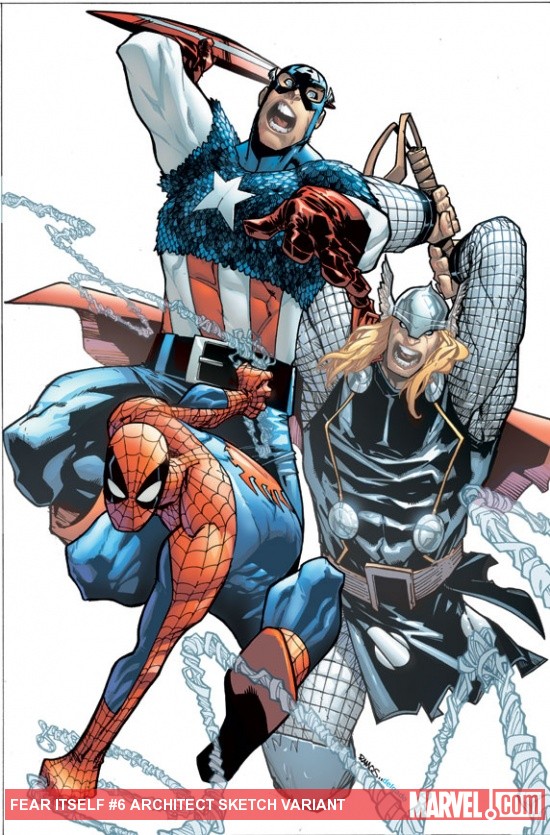 [/private]
Anne Hathaway
,
Batman
,
Bruce Campbell
,
Catwoman
,
Comics
,
Game of Thrones
,
GamePro
,
George RR Martin
,
Movies
,
Video Games
,
webcomics
No comments yet.
No trackbacks yet.
about 1 day ago - No comments
This weekend is FanimeCon's 20th anniversary, so come celebrate with us and tons of other anime and video game fans at San Jose's great convention center. There you can partake in one of the best anime cons on the west coast, with its large video game room, artist alley, anime swap meet, dealer's hall, and More >