Friday Quick Caption for February 17th 2012
Friday Quick Caption is a weekly update of quick links and blurbs from the world of entertainment news. Expect your fast pace, A.D.D. dose of movie trailers, comic news, celebrity updates, and video game announcement from throughout the week.
This week we appear to have a very movie heavy FQC, with a little bit of TV news to sprinkle across the board. So lets dive right into it with some news that will appeal to fans of anime, comics, television, and DVDs!
Marvel Does Anime on DVD Right – Marvel studios, in conjuncture with Madhouse Studios, has release 4 awesome anime adaptations of their famous comic characters. Some of you might have seen these series on G4 (while others might have been naughty and pirated them, as is quite common with anime). However, thanks to the always informative online shop, Amazon, we now know a little about Marvel's plans for US DVD releases on the series. Both the X-men Anime and Iron Man Anime have been given release dates of April 24th, 2012. These DVDs will be 2-disc complete series that offer the anime in both English and Japanese (for the hardcore). They retail at $19.99 but, as you can expect, with Amazon that is not the price you pay.
The Boys Find Problems in Columbia – It would seem Columbia Pictures doesn't have the faith in a movie adaption of Garth Ennis' The Boys that fans apparently do. After several run throughs on the script, including work by Seth Rogen, the film seems to be finding trouble. Sadly there is still no word of Simon Pegg being attached, and Columbia Pictures has just dropped their involvement. This leaves Neal Moritz and Jason Netter, the film's producers, to shop the title around a bit longer.
House Finds Foreclosure – The medical drama, House, has been running for a respectable 8 seasons, with a solid fan base. However, all good things must come to an end (and with TV, 8 seems to be the number people are calling it in on now). Fox has announced earlier this week that House M. D.'s 8th season will in fact be its final season. Sorry to see that one go.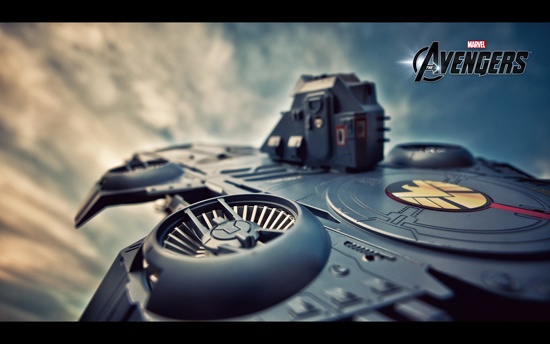 Why Weren't Toys This Cool When We Were Kids? – Marvel gave us the first glimpse at their Avenger's movie toys from Toy Fair in New York this weekend. Check out that awesome (and HUGE) SHIELD Hellicarrier!
The CW's 'Arrow' Starts Casting – Surprisingly, I don't mean that they're casting arrows from their bow, but rather hiring stars to play major roles in the Green Arrow TV series. Oddly the series is just to be called Arrow, but the characters are keeping their names. Stephen Amell has been cast as the lead, Oliver Queen/Green Arrow, alongside Katie Cassidy, who been brought on as Dinah Lance. Susanna Thompson is the only other big hire for the show so far, signing up as Moira Queen, Green Arrows mommy. But not to leave on just 3 hires, David Ramsey was also cast for a role designed uniquely for the TV series. Ramsey will play Oliver Queen's bodyguard, John Diggle (subtle reference to comic writer Andy Diggle, who once worked on Green Arrow?).
Jackson Takes Directorial Duties For Tintin 2 – In a recent interview at TotalFilm, Steven Spielberg discussed plans for Tintin 2. He included that Peter Jackson and himself had agreed that while Spielberg would direct the first film, Jackson would handle the second. Also stated was that the second film, unlike the first, would cover no more than 2 of the famous Adventures of Tintin stories. Jackson intends to begin work on the second film in the series after he completes The Hobbit.
The Wolverine Sequel Sees Screens in 2013 – Wrapping up this week's FQC, we have the fun news that The Wolverine (I can't believe they're calling it that) will see Hugh Jackman return as the Canadian X-man with an adamantium skeleton on July 26,2013, according to Director James Mangold.
andy diggle
,
Anime
,
Columbia Pictures
,
Comics
,
DC
,
dvd
,
Garth Ennis
,
Green Arrow
,
House
,
Hugh Jackman
,
iron man
,
James Mangold
,
Marvel
,
Movies
,
Peter Jackson
,
Steven Spielberg
,
The Avengers
,
The Boys
,
Tintin
,
TV
,
Wolverine
,
X-men
No comments yet.
No trackbacks yet.
about 11 months ago - No comments
You saw all our live tweets announcing amazing creative teams, incredible new titles, and generally building up the hype of DC's Universe Rebirth, but now you can watch the entire panel (potentially again) by clicking the video steam below! There's certainly a ton of great news to take in after watching that hour and a More >