Friday Quick Caption for August 10th 2012
Friday Quick Caption is a weekly update of quick links and blurbs from the world of entertainment news. Expect your fast pace, A.D.D. dose of movie trailers, comic news, celebrity updates, and video game announcement from throughout the week.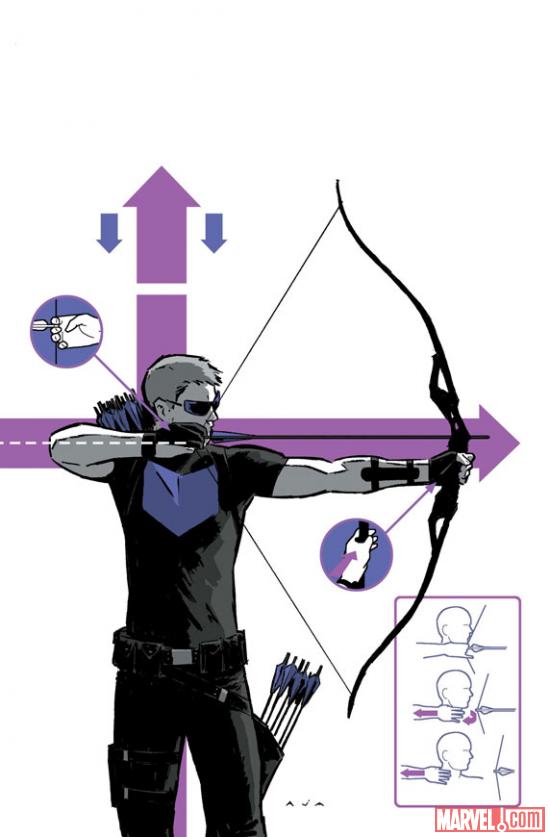 A Sneak Peek At Hawkeye #2 – After a rather successfully selling issue #1, Marvel gives us a peek at the art for issue #2 of Hawkeye, which goes on sale Wednesday, September 5th.
Who's Ready For An Adventure In Space And Time? – See the pun in that one? You will in a moment. Doctor Who fans rejoice, as the series nears its 50th anniversary next year. The series once intended to be titled An Adventure In Space And Time began back in November of 1963. To celebrate this, BBC announced this week that BBC2 has commissioned a 90-minute drama about how Doctor Who came to be. Written by Mark Gatiss, the drama, An Adventure in Space and Time, will have Doctor Who's current showrunners, Steven Moffat and Caroline Skinner, on as Executive Producers.
Robert Kirkman Explains Continuity on The Walking Dead Novels – Some fans of The Walking Dead series have been a little curious about just where the prose novels fit in within the comic and television continuity, especially with the solicitation of "The Road to Woodbury" featuring a little known character named Lily. Thanks to a Previews World (Diamond Distribution) interview at SDCC, we now know. Check out this short Robert Kirkman interview below:
Guest Creators On DC Comics – This week we already saw Becky Cloonan step in to the art duties of Batman for issue #12, but all this week on The Source (DC's official blog) there has been talk of guest creators stepping in. Whether this is a sign of Editors once more trying to keep books coming out on time or a potential shake up for new creative teams…who knows but those sitting in the DC offices. However, here is what we do know: Pascal Alixe will be taking over art on Red Hood and the Outlaws #14, just before the next Batman event, 'Death of the Family'. Artist Pete Woods will be working on Aquaman #14 alongside Geoff Johns. On Nightwing, fans will get an entire new guest creative team for issues #13 and 14, as Tom DeFalco, Andres Guinaldo and Mark Irwin take over, once again, right before the big Batman event.
Gotta Catch 'Em All At Gamestop – Pokemon, the ever loved franchise of video games that has you catching now somewhere around 650 different super powered critters for intense battles, is about to introduce a new pocket monster to the mix. Exclusive to Gamestop, Nintendo has revealed their newest mythic Pokemon. Well, they sort of have…right now she's more of a silhouette. However, come August 20th you'll get the name and full image of the new Pokemon at Pokemon.com, and from August 27th through October 6th you can attend special distribution events at participating Gamestops to catch your own! Until then, we can only look at the silhouette below and presume Nintendo's Pokemon designers have come down with a case of Brony love. (Note: this new Pokemon will only be available to gamers with the Black or White version of Pokemon for DS. If you were hoping to get this guy on Black ver.2 or White ver.2, you might need to invest in their original releases first, as both sequels come out the day after this event ends!)
An Adventure In Space And Time
,
Andres Guinaldo
,
Batman
,
BBC
,
Becky Cloonan
,
Caroline Skinner
,
Comic Con
,
Comics
,
DC
,
Doctor Who
,
DS
,
Gamestop
,
Geoff Johns
,
Hawkeye
,
Interview
,
Mark Irwin
,
Marvel
,
Nintendo
,
Pascal Alixe
,
Pete Woods
,
Pokemon
,
Robert Kirkman
,
SDCC
,
Steven Moffat
,
The Walking Dead
,
Tom DeFalco
,
TV
,
Video Games
No comments yet.
No trackbacks yet.
about 2 days ago - No comments
Eaglemoss Collections has long been known for their awesome subscription based comic paraphernalia. Whether it is chess pieces or model cars, the company puts out some high quality and awesome comic products at very reasonable prices. But now the company seems to be dealing in facts and secrets as if they were a real life More >