Marvel AR with The Avengers at Wal-Mart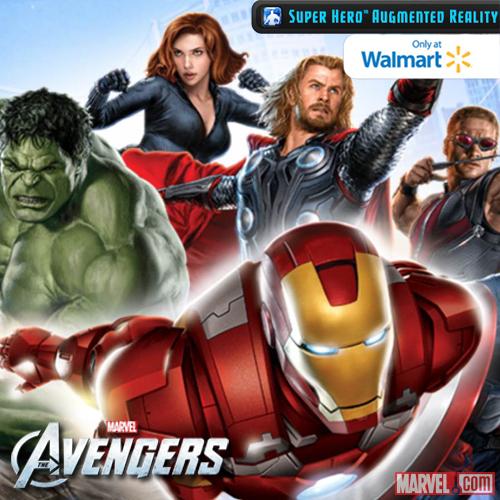 In preparation for next weeks The Avengers movie, Marvel and Wal-Mart have joined forces to create a new Augmented Reality game you can play on your smart phone or mobile device. By downloading new "Superhero AR" app (which is different from the Marvel AR app, and is produced by AD-Dispatch Inc) from iTunes or Google Play, you can help the Avengers defeat the evil Loki. How is this done you might ask? While, basically put you are playing an Avengers themed scavenger hunt at your local participating Wal-Mart with a smart phone. Using the AR app you must find specific images on "Marvel's The Avengers" signage located in various departments around the stores (including apparel, grocery, toys and wireless). Once found, scan the image with the app much like you would the new Marvel AR covers and panels in a comic. Each scan allows you to unlock one of five various super powers from characters like Ironman, Thor, Hulk, Captain America, and…Black Widow (Black Widow powers?). No, they didn't leave out Hawkeye (Really? Hawkeye powers?), as he is your starting power source. The idea of the game is to collect all the avengers so that you can defeat Loki and save the world. It even has some ultra action-y music to put you in the mood while you're playing.
Now while the game mode is interesting, the real fun of using Marvel AR at Wal-Mart will be the method everyone truly uses: Photo Capture Mode. You remember that trend (that is still going on) of people taking mobile pictures at local discount retailers while wearing the childrens Avengers masks? The Photo Capture Mode on the app is going to be a lot like that. While at your local Wal-Mart you can aim the mobile device at the "Marvel's The Avengers" DVD pallet to see a 3-D model of your favorite avenger appear on screen. From there you can pose with him, make silly faces, or otherwise abuse this feature to make fun and hilarious photos. Check out Samuel L. Jackson, The Avenger's Nick Fury, testing it out below.
Fans of this app that just can't get enough out of this app at Wal-Mart or can't find a participating Wal-Mart nearby (or just can't stand being in a Wal-Mart) can still bring Black Widow and Hawkeye to life. They can either visit www.walmart.com/TheAvengers and look for an image of Black Widow to bring up the 3-D model, or find a Hawkeye image in the April 29 Wal-Mart newspaper (who knew, right?) circular and utilize the Superhero AR app to activate the feature.
In addition to all this, T-Mobile representatives at Wal-Marts will help customers "navigate the terrain" and unlock each super hero's power. In select stores, the grocery section will also offer shoppers food and beverage samples of Avengers-themed products such as Dr. Pepper, Red Baron Pizza, and Hershey's chocolate candies.
Now all in all, this app is fairly fun and would make for an enjoyable late night adventure with friends to Wal-Mart. However it is a big app, wont provide you with as much fun if you can't get near a Wal-Mart to unlock new characters, and might frustrate you a little when you're trying to use the Photo Capture Mode. The game play is amusing in it's use of AR, but you will look like an idiot constantly spinning around if you attempt to play in public. Also, that music gets old fast! Unfortunately there doesn't seem to be a way to kill the music outside of turning down your phone volume. But in the end, if you're just looking for a little more Avengers tie-in fun, this is worth the download.
(To make it a little bit easier to track down the app, we've provided the QRC below)
Android
,
Avengers
,
black widow
,
Comics
,
Hawkeye
,
hulk
,
Marvel
,
Marvel AR
,
Nick Fury
,
review
,
Samuel Jackson
,
Scarlett Johansson
,
The Avengers
,
Wal-Mart
No comments yet.
about 14 hours ago - No comments
Batman's Arkham Origins trailer is finally here, as promised back on Thursday. The trailer reminds me of one we got a few years back, featuring Batman fighting off Tyger Guards and Doctor strange. This one, however, has Batman, Deathstroke, Deadshot, and Black Mask all appearing as rather amazingly badass. The game releases October 25th of More >