Friday Quick Caption for August 3rd 2012
Friday Quick Caption is a weekly update of quick links and blurbs from the world of entertainment news. Expect your fast pace, A.D.D. dose of movie trailers, comic news, celebrity updates, and video game announcement from throughout the week.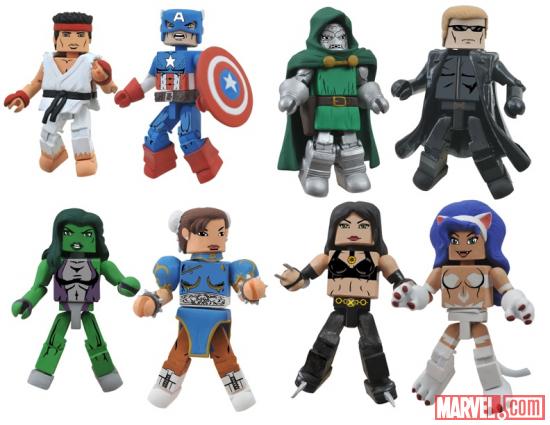 More Marvel Vs Capcom Toys – Thanks to the guys and girls at Diamond Select Toys, we're about to see the release of some brand new Minimates. What makes these Minimates so special? Well, some of them will be based on Capcom characters! That's right, the popular video game series, Marvel Vs Capcom, is spawning off some awesome two inch tall figures. There will be 4 box sets of two characters a piece, featuring Captain America and Ryu, She-Hulk and Chun Li, Doctor Doom and Albert Wesker, and X-23 and Felicia! The female characters are only available at comic shops, so make sure to swing by you local comic store when these figures come out next week.
Grant Morrison To Leave Superhero Comics – Atleast he'll be off the monthlies for a while, according to a recent interview over at CBR. It would seem he's run dry on stories and desires in relation to the superhero genre of comics. He does note that this isn't an absolute end, but a temporary one at the least. He will finish up his current DC on-goings with Action Comics on issue #16 and Batman Inc at #12.
Want To Be A Comic Book Writer? – Breaking into the comic book industry is hardly an easy task, especially for writers. However, the keen people at Orlando's MegaCon are giving you the chance right now. In a contest that started earlier this week, aspiring writers can submit a 15-page comic script based on a short sypnosis listed on the site to possibly win a free trip to MegaCon as well as a cash prize and potential employment writing comics professionally! Click here to learn more.
What Follows Spartacus? – Spartacus is preparing to wrap up the sex and violence fueled gladiator TV series that has rocked Starz for 3 seasons as the show enters its 4th and final season. But what does Starz have planned for afterwards? Well, Spartacus creator and executive producer, Steven S. DeKnight spoke to IGN at San Diego Comic Con about his new Starz TV series, Incursion. A mix between the military drama, Band of Brothers, and galactic warfare, as you might find in Halo, Incursion looks like it might be a real winner for the premium television network, as DeKnight describes below.

Kickstarter Bans Retailer Incentive Rewards – Many new games, comics, and other projects that involve getting a smaller company product into retail stores rely on Kickstarter and special reward incentives for retailers. However, Kickstarter has now banned this and what they are referring to as "rewards in bulk quantities". This could hugely effect many current and upcoming Kickstarter campaigns, like Top Cow's Cyberforce campaign.
A Marvel Live Action TV Show Could Possibly Find Its Way To ABC – Of course, as Deadline is reporting, the concept is just "a kernel of an idea" at the moment. But thanks to the highly successful Avengers movie, ABC Studios might be crazy not to make some kind of Marvel universe live action show. Alias perhaps?
The Hobbit Officially Becomes 3 Films Long – News from Peter Jackson this week might not have come as a surprise to many, with rumors that The Hobbit would be spread out over 3 films first arising during San Diego Comic Con. However, this Monday Peter made it official with an announcement he shared on his Facebook, stating:
It is only at the end of a shoot that you finally get the chance to sit down and have a look at the film you have made. Recently Fran, Phil and I did just this when we watched for the first time an early cut of the first movie – and a large chunk of the second. We were really pleased with the way the story was coming together, in particular, the strength of the characters and the cast who have brought them to life.  All of which gave rise to a simple question: do we take this chance to tell more of the tale? And the answer from our perspective as the filmmakers, and as fans, was an unreserved 'yes.'

We know how much of the story of Bilbo Baggins, the Wizard Gandalf, the Dwarves of Erebor, the rise of the Necromancer, and the Battle of Dol Guldur will remain untold if we do not take this chance.  The richness of the story of The Hobbit, as well as some of the related material in the appendices of The Lord of the Rings, allows us to tell the full story of the adventures of Bilbo Baggins and the part he played in the sometimes dangerous, but at all times exciting, history of Middle-earth.

So, without further ado and on behalf of New Line Cinema, Warner Bros. Pictures, Metro-Goldwyn-Mayer, Wingnut Films, and the entire cast and crew of "The Hobbit" films, I'd like to announce that two films will become three.

It has been an unexpected journey indeed, and in the words of Professor Tolkien himself, "a tale that grew in the telling."

Cheers,

Peter J
Peter Jackson is notoriously considered poor at cutting down his films, with movies known for running a lot longer than necessary. But perhaps expanding all this footage over an extra film might make Peter Jackson's The Hobbit trilogy come in with a series of movies that all actually run under 3 hours per film.
Doctor Who And The Daleks…All The Daleks – Series 7 of the new Doctor Who is about to air, with the first screening taking place at BFI Southbank on August 14th. From there we just have to wait for Fall to see the premiere of season 7 on the BBC and BBCAmerica. But until then, we have a brand new image and trailer for season 7 below!
ABC
,
BBC
,
BBC America
,
Capcom
,
Comic Con
,
Comics
,
Doctor Who
,
figures
,
Grant Morrison
,
Incursion
,
Kickstarter
,
Marvel
,
MegaCon
,
MGM
,
New Line Cinema
,
Peter Jackson
,
SDCC
,
Spartacus
,
Starz
,
Steven S. DeKnight
,
The Hobbit
,
TV
,
Video Games
,
Warner
No comments yet.
about 2 days ago - No comments
Years ago, the Killjoys fought against the tyrannical megacorporation Better Living Industries, costing them their lives, save for one—the mysterious Girl. Today, the followers of the original Killjoys languish in the Desert while BLI systematically strips citizens of their individuality. As the fight for freedom fades, it's left to the Girl to take up the More >